Nuno Bettencourt - Crave (1997)
http://www.youtube.com/watch?v=KHgR1IFSlr4
So at home I have an unorganized collection of tapes with songs recorded off various college/rock radio stations. This collection runs through about 1999, when mp3s started to replace college radio as the primary source for finding out about cool music. While I attempted to record the name and artist of every song, many of the song titles are guesses and artist names blank. Digital Kids of Today cannot appreciate that it actually used to be difficult to find out what a song was, as you would inevitably miss the DJ rundown of what the songs were sometimes (if they even gave a rundown, and didn't screw it up). So I pulled out the old walkman the other day and plugged it into the now common "aux" input for mp3 players in the car, with a tape labeled "2/97-3/97". These tapes have tons of artists I have never mentioned in my song of the day entries, because even I hadn't ever tracked them down. But the internet of 2010 is so comprehensive, and google so all-powerful now, that many can be identified and shared.
So, this 1997 song is a catchy rock number that is mostly alternative rock, but harder a la Red Hot Chili Peppers (without the funk) or Soundgarden (but not truly grunge). I was bit disturbed and intrigued to learn that the song (called "Crave") is by
Nuno Bettencourt
, well known to hair metal fans as the guitarist of
Extreme
, purveyors of 1991 mega ballad hit
More Than Words
.
I mean, you cannot ignore the hair metal look: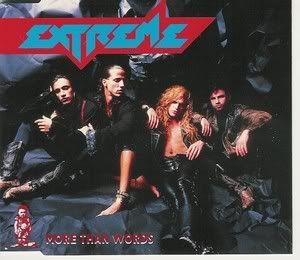 Anyway, apparently Extreme broke up in 1996 because Nuno wanted to go solo, and he released his 5 year labor of love,
Schizophonic
. (Incidentially, Extreme's singer was/is
Gary Cherone
, better known as "that other Van Halen singer who sucked").
You cannot ignore the Hair on Schizophonic either, but Nuno as Marilyn is definitely not hair metal:
Anyway, apparently Extreme fans are divided about Schizophonic due to it being a departure in style. I sampled a few of the tracks, but only Crave, the track on that 1997 radio tape, resonated with me. The song is not obscure to people who knew Nuno, but I never knew who this was, and never heard the song on the radio again. The album was not a huge hit, and today Nuno is reunited with Extreme, back in the rut he tried to emerge from, it seems.
(More song of the day entries on the anchor cove forum
here
)